Download our free interim VEUS-SI-2 metric conversions tool. This tool will convert all of the Vehicle Energy Use Simulator's results into metric and UK settings.

DOWNLOAD THE FREE METRIC CONVERSION TOOL BY CLICKING HERE

- for Mac OS X 10.6 and later
THIS APP HAS BEEN TEMPORARILY REMOVED FROM THE MAC APP STORE FOR UPGRADE WORK
Displays Live Changes to All Relevant Data Points Instantly
Main Screen (1300 X 710 px)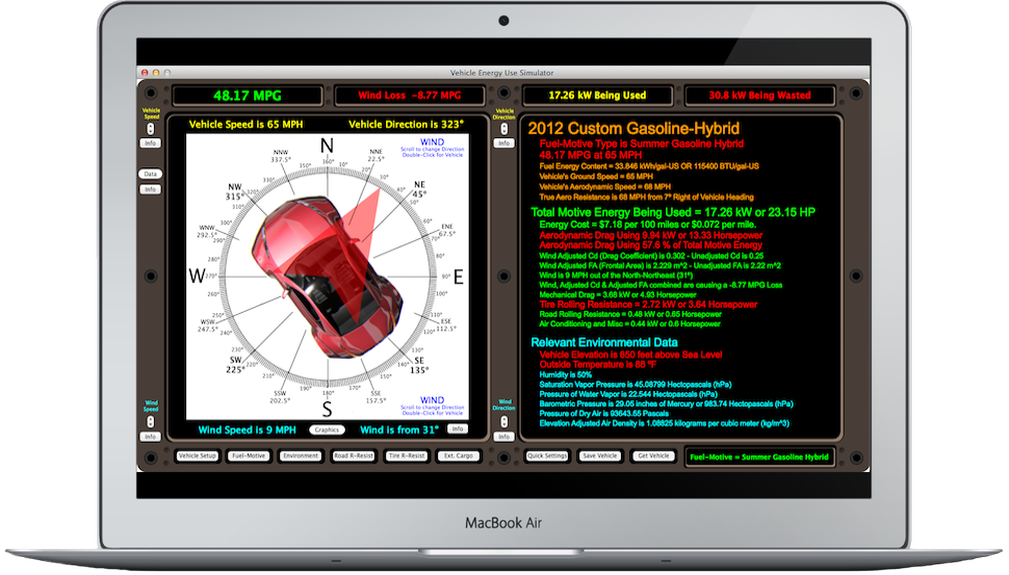 LOADS OF INFORMATION AVAILABLE INSTANTLY!
Watch the videos below to get a feel for what the program is capable of.  The Main Screen's controls deliver live or real-time data instantly as you move the Vehicle or the Wind around the Compass or change their speeds or change any of the many, many other data variables.
To see this video in Full-Screen, click here and go to YouTube where you can choose to see it Full-Screen.
To see this video in Full-Screen Click Here

QUICK SETTINGS SCREEN  The Quick Setting screen can sit on top of this Main Screen and will give you control of most of the variable values in this program.  As you make changes on the Quick Settings screen you can watch the instantaneous changes they cause to your vehicle's efficiency right here on this main screen.


PROGRAM SCREEN SIZE: 1300 X 710 px.  Runs fine on 1280 px machines.  On 1280px  screens, 20 pixles are cut off frame on right side.  Absolutely no information or functionality is lost on 1280px screens.   See 1300 vs. 1280 examples below: