The Fuel-Motive Screen Allows You To Select from 31 Different Fuel-Motive
Combinations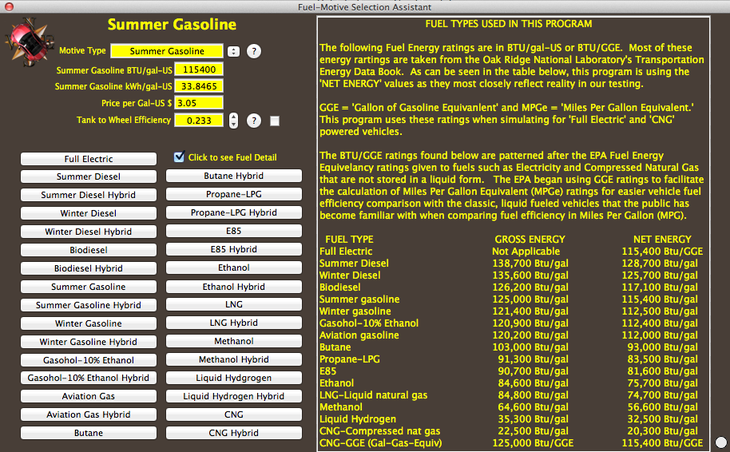 CHANGING MOTIVE TYPES
When you use the up/down arrow for the Motive Type here in the Quick Settings panel or window many interesting things happen in addition to simply changing the motive type. which do not happen when you select a Motive Type in the initial Vehicle Setup Window.
FIRST, THE PROPER FUEL TYPE IS MATCHED TO THE CHOSEN MOTIVE TYPE
When you pick a new Motive Type in this Quick Settings Panel, the proper fuel is selected to fit the Motive Type. When you select 'Full Electric,' the BTU field is labeled 'Battery BTU Equivalent' and the onscreen 'MPG' readout now says 'MPGe' which means Mile Per Gallon Equivalent and is the new US Gov. EPA rating being given to vehicles that are capable of operating in Full Electric Mode.
NEXT, THE ENTIRE PROGRAM IS UPDATED
The program instantly updates itself with your selection and allows you to see how the vehicle you initially setup will perform with that Motive Type.  This is particularly interesting, as you will see that the Full Electric Motive Type has the least TTWE Tank-To-Wheel energy waste.  Just how much energy is being wasted in the long run is still subjective however, as what needs to be calculated is where the electricity to charge the battery array came from. If it came from solar cells, windmills or a hydroelectric dam then it truly is the least wasteful Motive Type. Where if the electricity is coming from fossil fueled power plants such as coal and oil then the efficiency would range between 33% to 50% efficient; about as good as a modern gasoline hybrid Motive system.
FULL ELECTRIC MOTIVE AND THE kWh COST AVERAGE IN THE USA
When considering only the operating cost of fuels, the cost of electricity as a 'vehicle fuel' should stay substantially lower than the cost of purchasing carbon based fuels purely because of the efficiency of Full Electric Motive Systems. In 2011 the average price of one-kilowatt hour (kWh) of electricity across the USA was 11.2₵. To compare that to one US Gallon of gasoline we would need to buy about 33.8 kWh of electricity at 11.2₵ cents per kWh and that would be $3.79. The average price of gasoline in the Fall of 2011 in the USA was $3.42 so the average equivalent cost of electricity is slightly higher however, because a Full Electric Motive system can run above 90% in efficiency and a gasoline hybrid is lucky to hit even 40% in efficiency, electricity is very close to half as expensive when used as a vehicle fuel.