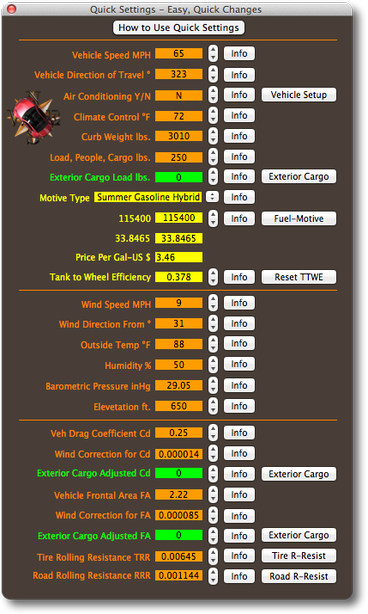 THIS QUICK SETTINGS WINDOW CAN CONTROL MOST OF THE SIMULATOR
When you are using the program, you will notice that this Quick Settings window takes a little longer to open than the other 'Assist' windows in the program. This is because there are so many controls on this window and they all tie into the rest of the program and update those parts instantly each time you change any one of these variables.  Only a few settings for the program are not right here in this window. Once you have your vehicle setup, you can open this window and start adjusting and altering these values and watch the instantaneous changes they make to the efficiency of the vehicle you are simulating for. Anytime the Window is covering some part of the program you want to watch, you can simply move it and be able to watch as you make changes.
ALLOWS THE USER TO ADJUST THE MORE ARCANE VALUES
In the lower section or the third group of fields down on this Quick Settings Window you will find the more arcane or esoteric fields for this simulator. Most of these values can be set for you automatically when you setup your vehicle by choosing the 'Apply Defaults' button during a vehicle setup however, this program allows you to set these values yourself if  and when you desire to.  Most simulators don't allow the user access to many of these settings and are often hard-coded into the program's code so users cannot adjust them. Frankly, some of these controls, like Wind Corrected Cd, Wind Corrected FA, Ext. Cargo Adjusted Cd and Ext. Cargo Adjusted FA are not even available in most simulators.
ENGINEERS AND NON-ENGINEERS
Even if you are not an engineer, this program makes it easy to learn and understand what most of these more arcane settings are all about via the 'Help' information behind each of the '?' buttons.  Once you understand what they are by playing with them and by watching the effect they have upon your simulated vehicle, your mind naturally becomes more creative and you begin having ideas and questions about new possiblities.  New vehicle technologies are always spawned first from a thought.  This simulator not only helps create new ideas but, helps you test the possibility of their reality!
If you are an automotive engineer, you probably already understand, for the most part, what these fields are and can instantly adjust them to simulate for or test for different engineering possibilities.   Most simulators don't offer even half of the variables in this last section much less make provision for testing and providing immediate results.
MOTIVE TYPE IS ONE VERY INTERESTING TOOL
For fun, setup a vehicle like one of the new hybrid vehicles that are coming out.  Now change the Motive Type from 'Summer Gasoline Hybrid' to 'Summer Diesel Hybrid;' you will be quite impressed with the improvement in efficiency and mileage and you will understand why more and more people are asking; "Why isn't the USA making, promoting & selling more Diesel Hybrids?"