Tire Rolling Resistance Assist Helps Establish Values That are Otherwise Very Difficult to Determine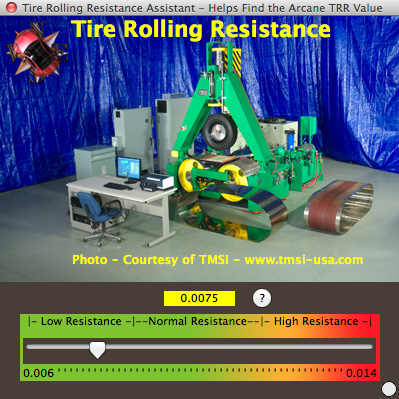 FLEXING SIDEWALLS AND FLEXING TREADS
We fill the Tire Rolling Resistance field with a number that represents the resistances that occur when the vehicle's rubber tires deform and flex as they roll over or through, as it may be, different types of road surfaces.  It really is a rather complex issue as not only do rubber tires offer resistance via flexing sidewalls and flexing treads but, even" the rubber compounds used to make the tires lend to a wide array of variables in Rolling Resistance.
NEW TIRE'S THICKER TREADS INCREASE TRR
Thicker treads (new tires) have significantly higher rolling resistances than when even 20-22% of the tread has been worn away.
UP TO 10% DECREASE IN RESISTANCE AFTER 20% TREAD WEAR
Many new tires have TRRs between 0.009 and 0.011 whereas those same tires after only 20-22% tread wear will manifest TRRs between 0.008 and 0.001or around 10% less resistance. 
 

TRACTION RATINGS OF 'B' OFFER LESS RESISTANCE THAN 'A' RATINGS

Interestingly, tires with a traction rating of 'B' will often have rolling resistances that are lower than those with 'A' or 'AA' traction ratings.
SMALLER DIAMETER TIRES OFFER MORE RESISTANCE
Tires on smaller diameter rims (13" to 15")  have higher TRRs than those on 16" and larger diameter rims.
WIDE TIRES OFFER MORE RESISTANCE THAN NARROW TIRES
Generally wide tires offer more rolling resistance than narrow tires. Some engineers explain this as the result of increased 'Contact Patch' or an increase in how much of the tire's rubber tread is in contact with the road's surface.
INFLATION'S IMPACT UPON RESISTANCE
Inflation pressures are very influential upon rolling resistance.  Simply inflating a tire from say 28 psi to its maximum sidewall rating can increase the fuel mileage (MPG) in a Toyota Prius by as much as 4 MPG.
INFLATING TO MAXIMUM SIDEWALL PRECAUTION
Inflating a tire to its maximum sidewall pressure should be researched carefully before implementing the practice as inflating a tire to its maximum sidewall pressure rating can cause traction losses in hard cornering and braking.  Maximum sidewall pressures can provide a rougher ride and can cause a dangerous increase in traction loss when 'skipping' on rough or washboard surfaced roadways.
TRR, CRR AND THE SAE (SOCIETY of AUTOMOTIVE ENGINEERS)
We use the term TRR or Tire Rolling Resistance in this program to differentiate between Tire Rolling Resistance and RRR or Road Rolling Resistance. This program's TRR values are based upon what the SAE calls RRC 'Rolling Resistance Coefficient' which is the value of the rolling resistance force divided by the wheel load. The SAE has developed test practices to measure the RRC or what we call the TRR of tires. These SAE tests (SAE J1269 and SAE J2452) are usually performed on new tires. When measured by using these standard test practices, most new passenger tires show RRCs or TRRs ranging from 0.007 to 0.014.