Exterior Cargo Assist Screen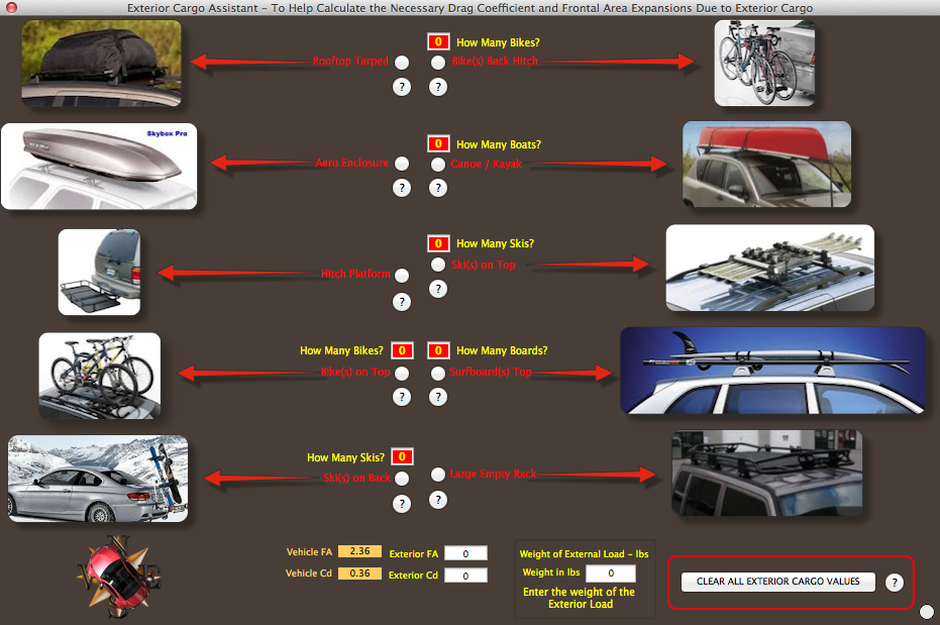 ROOF TOP CARGO
Loosely packed cargo on the roof a vehicle adds significantly to Frontal Area that has to cut through the earth's atmosphere as the vehicle moves.  This increases the Aerodynamic Drag.  When you select this radio button, you will be asked to enter the dimensions of the front end of the roof top cargo.  The program then adds the appropriate increase in the FA (Frontal Area) and the Cd (Drag Coefficient) to your vehicle and instantly recalculates your vehicle's energy use and displays the data on the main screen.
ROOF TOP AERODYNAMIC ENCLOSURES
Rooftop Aerodynamic Enclosures like those made by Yakima decrease the overall aerodynamic drag of Rooftop cargo.  When you select this radio button the program uses your input data and calculates for this type of rooftop cargo carrier.
BACK END HITCH ATTACHED PLATFORMS
Although backend hitch platforms are not as hard on a vehicle's fuel efficiency, they still take a toll and this simulator will provide a good start at helping you get this type of cargo figured into the simulation correctly.
ROOF TOP MOUNTED BICYCLES
Rooftop mounted bicycles are quite hard on vehicle aerodynamic efficiency.  This program allows you to enter in how many bikes you are carrying and gives you a very good start on the changes bicycles cause to a vehicles Cd and FA.  
REAR MOUNTED SKI CARRIER
A rear mounted ski carrier is much more efficient than a rooftop ski carrier.  This program allows you to enter the number of pairs of skis you are carrying and makes adjustments to your vehicles aerodynamics in accord with your entries.
REAR HITCH MOUNTED BICYCLE CARRIER
A rear hitch mounted bicycle carrier is significantly more efficient than a bicycle rooftop carrier.  Enter the number of bikes you are carrying on your rear hitch mount and the program makes the necessary aerodynamic changes to the simulator for you.
ROOF MOUNTED BOATS OR CANOES
Roof mounted boats or canoes are about the only way most vehicles can carry a boat or canoes without using a trailer.  The simulator will ask you to indicate how many canoes or boats you are carrying on your rooftop and then calculates the changes that will make to your vehicle's aerodynamics and provide you with updated mileage and energy usage data instantly.
ROOF TOP MOUNTED SKI CARRIER
A rooftop ski carrier is not as efficient as a rear-mounted type of ski carrier.  When you input how many pairs of skis you are carrying on your rooftop, the simulator calculates your aerodynamic changes and calculates a new MPG figure and energy usage data set for you instantly.
ROOF TOP MOUNTED SURF BOARD(S)
Surfboards on the top of your vehicle will change the vehicle's aerodynamics.  Enter in how many surfboards you are carrying and the simulator will give you your new mileage (MPG) figures and exactly how much more energy you are using and how much more it costs you per mile.
LARGE EMPTY ROOF TOP RACK
Some vehicles, especially SUVs, will sometimes have relatively larges custom-made or after-market cargo racks on top of the vehicle.   Even when empty, these racks can take quite a toll on a vehicle's fuel mileage.  Enter in the dimensions of your custom rooftop cargo carrier and the program will tell you how many miles per gallon your rack is costing you.