The Build Vehicle Screen Allows You To Apply Default Values or Your Own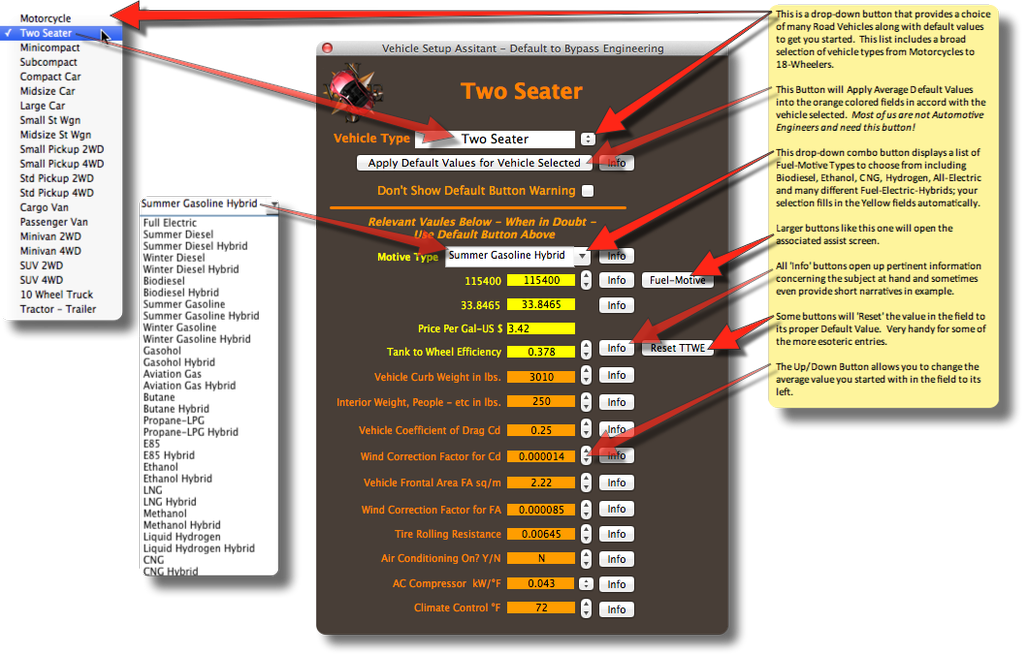 THE ENTIRE PROGRAM IS INSTANTLY UPDATED
The program instantly updates itself with your selection and allows you to see how the vehicle you initially setup will perform with any changes you make on this screen, as you make them.
TANK TO WHEEL EFFICENCIES CHANGE WITH MOTIVE TYPES
The Full Electric Motive Type has the least TTWE Tank-To-Wheel energy waste. Just how much energy is being wasted in the long run is still subjective however, as what needs to be calculated is where the electricity to charge the battery array came from. If it came from solar cells, windmills or a hydroelectric dam then it truly is the least wasteful Motive Type. If the electricity is coming from fossil fueled power plants such as coal and oil then the efficiency would range between 33% to 50% efficient; about as good as a modern gasoline hybrid Motive system.
DEFAULT VALUES
After selecting your Vehicle, you have the option to fill in the average default values for that type of vehicle by simply pressing the 'Apply Default Values for Vehicle Selected' button.
If you are not certain what some of the fields on the Vehicle Setup Window's values should be, then it is advisable to go ahead and prefill those fields by pressing the 'Apply Default' button.' This will give you the average values for the 'Vehicle Type' selected. You can always change the default values and use the button at the bottom of the form to save any changes you make."